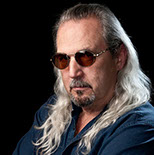 Stephen Paternite (American, born: 1952) received his initial art training in photography and sculpture from Cooper School of Art, Cleveland, Ohio in the early 1970s
 In 1974, he was the recipient of an "Artists Fellowship Award" from the National Endowment for the Arts, Washington, D. C.
In 1978, he began experimenting with black-and-white & color infrared photography leading to a limited edition portfolio of black-and-white infrared photographs entitled "The Infrared Portfolio" with an introduction by the former Whitney Museum of American Art and George Eastman House photography curator Robert M. Doty. This was followed in 1981 by the limited edition black-and-white infrared portfolio entitled "Below the Visible Spectrum" with an introduction by Cleveland Museum of Art photography department head, Nicholas Hlobeczy.
This site and all pictures ©2012-2017 Stephen Paternite. All rights reserved
Site created, designed and maintained by Cappy Petri.